Businesses are quickly transforming into value drivers. But what exactly helps them drive that value?
Business innovation is one key component that drives businesses to adopt modern-day technologies like hyper-automation, generative AI, and cloud-native applications, helping them contribute more to the value chain.
With a myriad of new concepts around disruptive technology, the era of digital enablement is here. We all know that corporations are eager to adopt new technology. But how?
Traditional business methods are no longer feasible in today's fast-paced digital environment. According to Gartner field analysts, intelligent enterprise technologies will drive up to 70% more consumer interactions for businesses by 2022.
These digital power tools are fueled by a plethora of cutting-edge technology, including Machine Learning (ML), customer analytics, and Robotic Process Automation (RPA), to mention a few.
Another worthy mention is Enterprise Resource Planning (ERP), which is gaining popularity as firms spend more to create inclusive workplace ecosystems in 2022.
A similar kind of business solution is RISE with SAP which we will be discussing in this blog, how it helps you drive business innovation and the array of endless possibilities it offers for business growth.
What is RISE with SAP?
RISE with SAP is a complete bundle of SAP services that primarily focuses on Business-Transformation-as-a-Service (BTaaS) through cloud ERP services. It enables organizations to establish effective operating models while also gaining agility and insight into organizational processes to remain competitive in today's digital revolution.
What does RISE with SAP offer your business?
Fine-tuning your business without undermining your mission-critical systems is key to achieving innovation. This is precisely what RISE with SAP provides for your company.
Your primary survival instinct is to remain competitive in today's continuously changing world. As a successful leader, you must change your digital engagement strategies to rapidly accept developments that have the potential to drastically affect your user experience.
This entails staying current on digital transformation trends and initiatives. RISE with SAP is a fully-featured ERP solution with cloud-first capabilities that boosts agility and reduces immobility throughout your organization.
Here's a preview of what RISE with SAP has to offer as a complete business suite for your business:
You can accelerate your transformation journey with a competitive cloud-based ERP
Make intelligent business decisions generated from data-driven analytics
Endless ways to scale your business as per the finest industry practices
Outcome-based SAP services and solutions for partners
Leaping forward towards transformation with RISE with SAP
Although switching to a reliable ERP solution is necessary, it can occasionally be complicated, especially for startups. To achieve optimal business continuity and ease of usage, SAP has developed a formula.
By helping you transition to a dynamic cloud-based ERP, RISE with SAP redefines the meaning of business intelligence. RISE with SAP combines SAP Business Technology Platform, SAP Business Network, and SAP Business Intelligence services under a single roof.
Whatever your starting point, you need to develop a special strategy that will enable you to push the paddle for digital transformation.
Let's break down your transformation journey with these three SAP RISE benefits: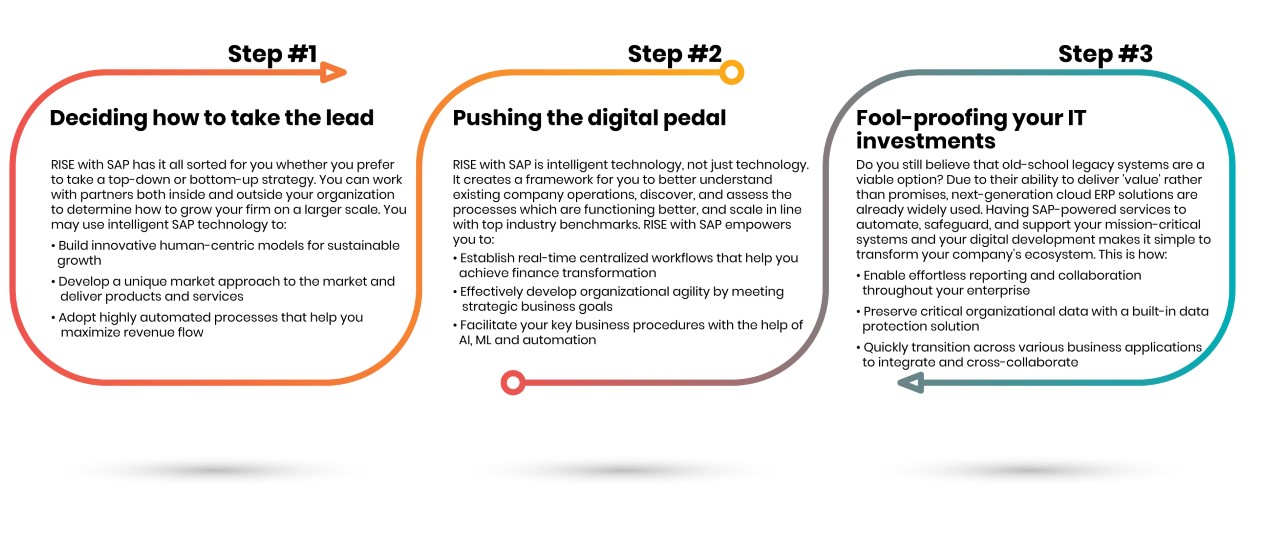 Step #1 – Deciding how to take the lead
RISE with SAP has it all sorted for you whether you prefer to take a top-down or bottom-up strategy. You can work with partners both inside and outside your organization to determine how to grow your firm on a larger scale. You may use intelligent SAP technology to:
Build innovative human-centric models for sustainable growth
Develop a unique market approach to the market and deliver products and services
Adopt highly automated processes that help you maximize revenue flow
Step #2 – Pushing the digital pedal
RISE with SAP is intelligent technology, not just technology. It creates a framework for you to better understand existing company operations, discover, and assess the processes which are functioning better, and scale in line with top industry benchmarks. RISE with SAP empowers you to:
Establish real-time centralized workflows that help you achieve finance transformation
Effectively develop organizational agility by meeting strategic business goals
Facilitate your key business procedures with the help of AI, ML and automation
Step #3 – Fool-proofing your IT investments
Do you still believe that old-school legacy systems are a viable option? Due to their ability to deliver 'value' rather than promises, next-generation cloud ERP solutions are already widely used. Having SAP-powered services to automate, safeguard, and support your mission-critical systems and your digital development makes it simple to transform your company's ecosystem. This is how:
Enable effortless reporting and collaboration throughout your enterprise
Preserve critical organizational data with a built-in data protection solution
Quickly transition across various business applications to integrate and cross-collaborate
Innovation starts where limitation ends
Your overarching goal as a transformation expert should be to lead your organization from the front. You must use innovation to achieve this. Having the right tools, technologies and tenacity in place will help you achieve innovation that can propel your business to success.
If you're looking to effectively meet customer expectations and expand your global footprint, RISE with SAP helps your business achieve these objectives with powerful ERP-powered cloud capabilities.
Seeking cloud-driven SAP services for your company that foster innovation? Contact us to start your transformation journey today!
How can we help you?
Are you ready to push boundaries and explore new frontiers of innovation?
Let's work Together