The term creative space describes a relatively recent phenomenon of innovative workplace design which is largely influenced by high-tech corporations such as Apple and Google. Businesses in this post-digital era are evolving. With the significant advancement in the technological sectors of the industry, creativity is valued as a means to boost productivity and increase profits. Moreover, in the technology industry, people are trying to break free from the mundane and monotonous work culture of traditional office spaces.
The cognitive need for a creative workspace
When do you feel most creative?
Can you create new ideas in a noisy environment?
Do you have the right tools to get inspired?
Does your workplace stimulate your creative thoughts and ideas?
All these questions point towards the pertinent need for a creative space at tech companies. To understand the need for creative spaces at work, we need to understand the three major components that are the driving force behind creativity in any organization: individuals, the environment, and their symbiosis.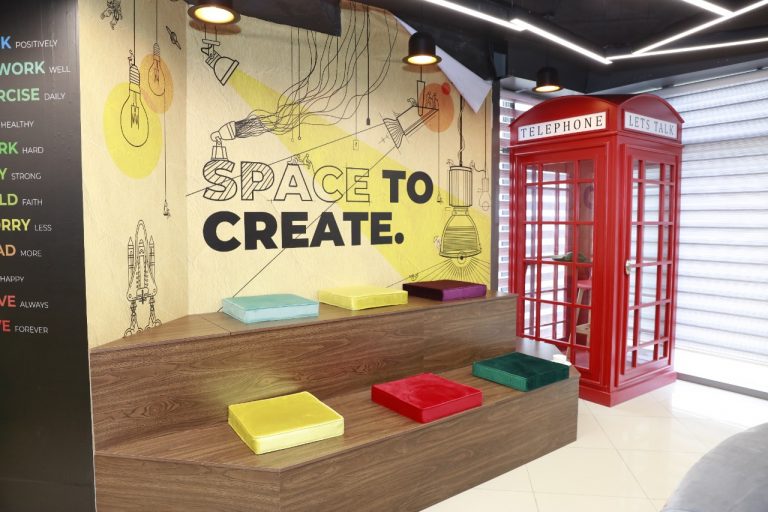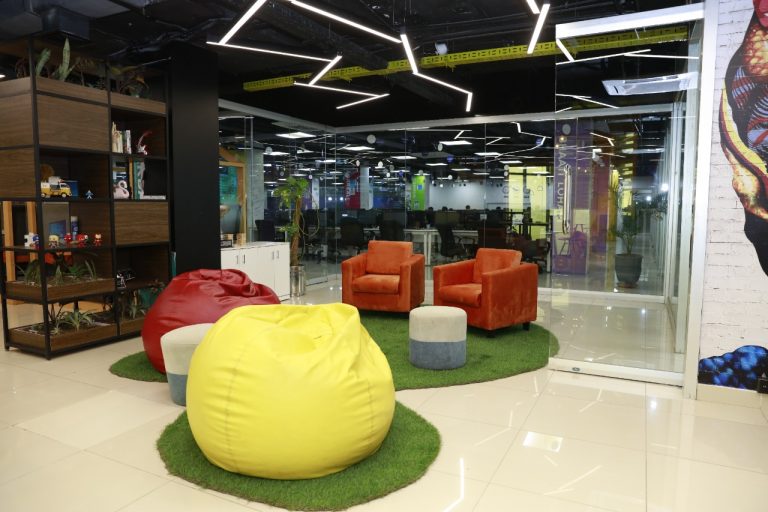 With the increasing shift towards digital, the need for innovation and creativity has skyrocketed to the top. The industry has now grasped that remarkable customer experience is critical to the sustained growth of any business. Thus, companies now are investing in dedicated teams to work on customer experience and design to serve as a backbone for digital growth. However, with increasing team size and diversity, working with outdated technology and dull offices has made it difficult for employees to work in new and creative ways.
Therefore, tech companies have now started to invest in their creative folks by providing them with state-of-the-art tools and technologies, along with an environment where they can be mentally, emotionally, and physically free to allow them to thrive.
The business needs a creative workplace
Nowadays, creativity and innovation are an integral part of corporate strategies and initiatives, and organizations are now focusing on improved collaboration, design thinking, and customer experiences. However, research has shown that traditional workplaces may not be designed to support the creative process.
Research by Steelcase states that 72% of the employees believe that being creative is crucial for future success at a company. Companies are focused on boosting creativity among employees. Therefore, tech companies have to invest in creative spaces, formally referred to as design studios. The need of the hour is to have a creative space that provides adequate stimulation, facilitates knowledge processing, adheres to innovation culture, and enables process workflows.
The vision behind Studio 77
Being at the forefront of technology, Systems Limited acknowledges the need for its employees to have a creative space. For Systems Limited, establishing Studio 77 was a creative process itself. Our management, cross-functional teams, and consultants brainstormed and gave a lot of thought to the overall look and feel of the design studio. After multiple iterations, we came up with a final plan which we then implemented to our liking.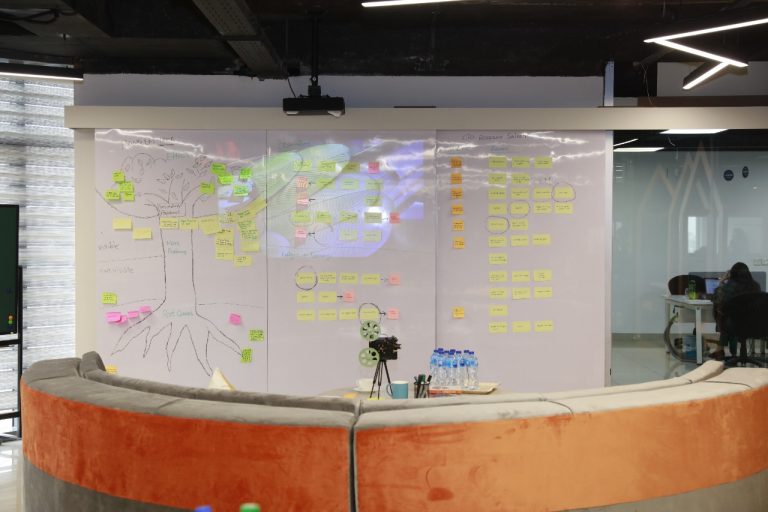 Studio 77 bridges the gap between the traditional office space and cutting-edge technology to help our employees be more productive and work collaboratively and creatively. It is designed to support the needs of individuals and teams as they move through different phases of the creative process. We have used a modular design approach to utilize the space as needed. The motivation behind this was to carve out an area that will provide our team of designers, researchers, and strategists along with everyone at Systems Limited with positive affirmations and give them an environment where they feel motivated, inspired, driven, and triggered.
Inclusivity was one of the primary considerations while designing this studio. This is why we have an open-door policy, and everyone and anyone is welcome to join us to partake in our creative endeavours to get their daily dose of inspiration.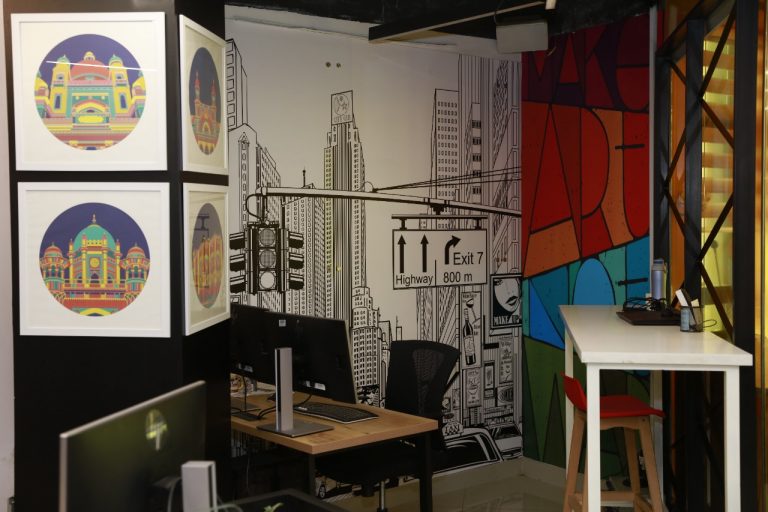 So, what is Studio 77?
The physical elements in the environment and surroundings are of utmost importance while making a creative space. Even microscopic details such as furniture, room layout, lighting, and interior design can make a vast difference to the overall look and feel.
The multi-purpose environment at Studio 77 is designed for interdisciplinary teams to develop personalized and engaging digital customer experiences. The creative space for a collaborative effort is different from the creative space for individual work. Studio 77 has booths for individuals to focus, reflect, and think, and it also offers opportunities for collaboration. Studio 77 aims to bring small groups from different disciplines together to refine and share ideas. The co-creation hubs in our creative space are ideal for collaboration.
For collaborative discussions during presentations and workshops, we have an area called the CampFire. It is designed to encourage quick switching between conversations and invite people to move around and use the idea walls for conceptualization and collaboration.
With the mounting emphasis on human-centricity in applications, usability testing has gained attention as it enables you to evaluate your product or service with real users. Studio 77 enables usability testing with a designated space and equipment. Our usability room is used to conduct user testing and to engage in one-to-one sessions or user interviews. It is imperative to have room for usability testing with internal and external users. Moreover, Studio 77 offers privacy while maintaining the overall open and collaborative atmosphere of the studio. In the studio, we have also designed an area to support work that requires separate think time called the DND Booth to allow for individual privacy and solitude.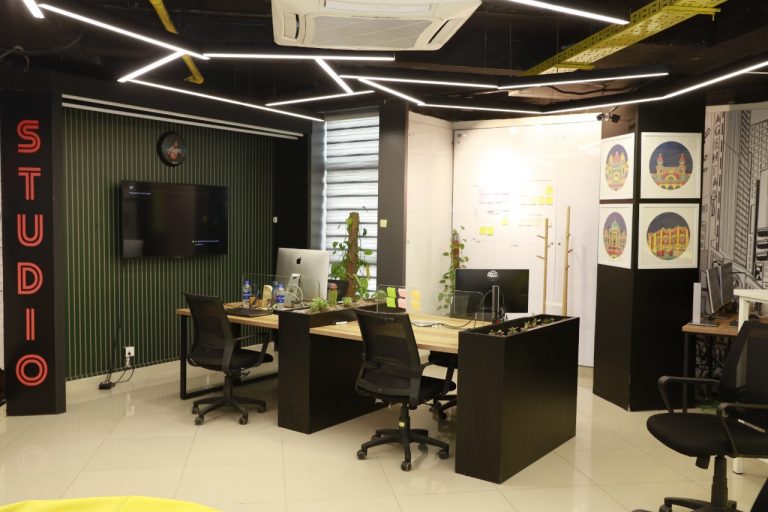 We strive to keep positive energy at Studio 77 so that our team continues to express freely and remains motivated. The team is free to use multimedia, LCDs, and other equipment for work or for engaging in team-building activities. We also encourage indoor games for not only members of Studio 77 but everyone at Systems Limited.
Conclusion
With the growing focus on inclusivity, innovation, and design, every tech-based organization must invest in creative spaces. Progressive companies facilitate their employees by creating an atmosphere that allows them to think, innovate and share freely. With Studio 77, Systems Limited aims to design a human-centred experience and encourage its team to think beyond creativity.
How can we help you?
Are you ready to push boundaries and explore new frontiers of innovation?
Let's work Together