Written by: (Ammar Afzal and Chaudhry Haras Ali – Data Analytics )
January 02, 2023
Startups, SMEs, and major enterprises across the globe are using big data analytics and business intelligence to reduce costs, provide seamless customer experience, and streamline current operations. With all these positive outcomes, the applications of big data management, analytics, and business intelligence are now decisive factors for any enterprise.
Years ahead, data will refuel organizations, helping them attain their strategic business objectives. So, a tremendous opportunity for growth lies ahead. The big data analytics market is set to reach USD 103 billion by 2023. Organizations are uplifting their existing data architecture for robust data management and to harness the extra values.
Here's a rundown of the key data and analytics trends that will undoubtedly disrupt the entire data landscape in 2023. The insights below will help organizations refine their data strategy, whether they're at the planning stage or have already adopted the core infrastructure.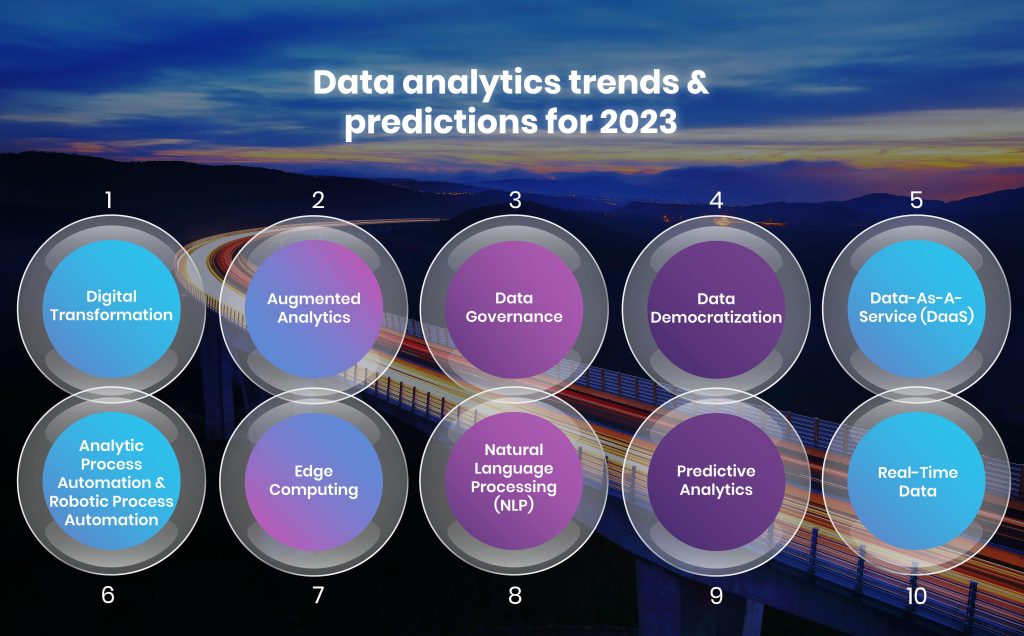 1. An intensive wave of digital transformation
According to Gartner CIO Agenda 2023, "Top executives want to see increased investments in technology, whether it's on the top line or the bottom line." The information was based upon a survey of 2203 CIOs in 81 countries, representing a USD 322 billion budget in IT spending. 
The CIO ranked their objectives for technological investments. Cyber and information security (66%), business intelligence and data analytics (55%), and cloud platforms (50%) were the top investment areas in 2023. 32% intended to increase investment in artificial intelligence (AI), while 24% intended to increase investment in hyper-automation. 
2. Augmented analytics will fuel major developments
In today's predictive analytics world, augmented analytics is the one key trend that the world will keep adapting. Augmented analytics integrates artificial intelligence (AI) and machine learning (ML) to improve human capability for contextual data sharing.
An augmented analytics solution can assist business users and management in better understanding their business context, asking appropriate questions, and uncovering insights from data faster. Furthermore, augmented analytics enables analysts and advanced users to undertake more in-depth analysis and data preparation tasks, even if they lack significant analytical experience.
According to Expert Market Research, the global augmented analytics market is expected to grow from USD 5.1 billion in 2020 to USD 25 billion by 2026, at a CAGR of 30.8% during the forecast period of 2023 - 2028.
3. Data governance will become an imperative
Data governance is the process of ensuring high-quality data and providing a platform for secure data exchange throughout an organization while adhering to data security and privacy standards. A data governance policy ensures data protection and enhances the value of the data by applying essential security measures.
These initiatives continue to get organized globally at a much faster pace. It will also be a popular topic in 2023, as more countries are passing legislation to limit the use of personal and other forms of data. From the customer's aspect, organization-wide adherence to regional, national, and international data compliance rules will protect their personal and corporate data and ensure its truthful utilization.
Globe Newswire report predicts that the global data governance market size is expected to reach USD 7.42 billion in 2026 with a CAGR of 22.7%.
4. Data democratization = Data-driven culture
Data democratization refers to making business data available to employees at all levels of the organization, not only to analytics teams and senior management. The concept also calls for the organization to provide employees with the right tools to evaluate the data they have access to, influencing business decisions and expanding prospects.
The continuous empowering of the workforce to put analytics to work has unlocked a new horizon of augmented working, where devices, applications, and tools give us access to valuable insights which empower us to ensure task completion rather efficiently and seamlessly.
Enterprises will gain a better understanding of their clients in 2023, allowing them to develop the right services and products while simplifying the organization's overall process. However, we can't reap complete benefits from it until our frontline workers and departments within the organization have access to the data power.
NLP tools can be leveraged to scan the pages of law cases and retail sales associates using hand stations that can get access to the client buying patterns in real-time. These are two instances where data democratization can come in handy.
5. Data-as-a-service (DaaS) will be the new strategy
DaaS is a cloud-based solution that promotes the use and access of data. Data can be accessed whenever it is needed, and data transfer is simple. Businesses could use cloud services to obtain access to third-party sources of data that have been captured and tested properly on subscription-based of a subscription-based pay-as-you-go payment model. This eradicates the need for companies to create their own expensive, proprietary data storage and collection systems for a variety of applications.
The adaptable Data-as-a-Service solution allows for greater scalability and rapid access to more resources. Processing and data administration costs may be reduced because the data-as-a-service model optimizes resource consumption based on demand.  According to research from Future Insights, the global market size is expected to be valued at USD 8562.4 Million in 2022, whereas it is expected to reach more than USD 68,724.9 Million by 2032.
6. Analytic Process Automation and RPA will change how the world gets work done
Automation has catalyzed numerous business transformations, resulting in long-term proficiency. Analytic Process Automation (APA) fosters growth by providing organizations with prescriptive and predictive capabilities. Analytic Process Automation primarily enhances computing capabilities to get precise results. Therefore, automation of analytical processes can increase productivity and improve overall data utilization.
On the other side, Robotic Process Automation (RPA) is one of the fastest-growing phenomena in the tech industry. It involves automating the software that imitates human interactions with digital systems. During COVID-19, Robotic Process Automation has gained significant popularity due to its capacity to automate repetitive processes like data entry, customer queries, verification, and packaging, among others.
According to a report, by 2029 the RPA market size will reach USD 43.52 billion at a CAGR of 23.4% from 2022 to 2029.
7. Edge Computing will empower businesses
Edge computing is a technological approach that has been evolving rapidly within the business domain over the last few decades, especially among telecommunications providers. Edge computing was propelled to prominence by 5G networks. Because of its ability to analyze data at the point of generation, it has low latency, proximity, and local processing. As of now, the future of global economies might be uncertain, but edge computing is set to make a much more significant mark in 2023. It is estimated that more than 50% of new IT infrastructure will be deployed using edge-based solutions in the next few years.
According to Statista, the worldwide edge computing market is projected to reach USD 247 billion by 2025. In contrast, Asia Pacific will have the largest global footprint of edge computing, accounting for 37.7% of the total by 2028. 
8. Natural Language Processing (NLP) application for value extraction from unstructured data
Natural Language Processing (NLP) is one of the top emerging trends in business intelligence that is revolutionizing how organizations process organizational analytics. Considered one of the most powerful branches of AI, NLP enables machines to understand, learn, and act on human language in writing or spoken form.
NLP is further sub-categorized in Natural Language Understanding (NLU), which focuses on the meaning of speech and text. On the other hand, Natural Language Generation (NLG) focuses on text-generated structured and unstructured data.
According to reports, the growth and adoption of NLP have been significant in the past few years, USD 3 billion markets in 2017 are expected to spread to USD 43 billion by 2025. This prediction isn't surprising because NLP applications are already present in our daily lives. Navigation systems, real-time maps, voice assistants, Siri, Alexa, and voice-to-note features in our cell phones are some of the common ways NLP has been ingrained in our daily lives.
9. Predictive analytics will gain more traction
As well-defined earlier in our blog, predictive analytics is a branch of advanced data analytics that predicts future outcomes based on historical data and statistical models,  with the help of AI and ML. With the rise of data, predictive analytics will become valuable for companies to identify risks and create risk mitigation strategies pre-emptively. In specific cases, domains like weather, health care, and scientific research can gain real advantages from predictive analytics.
Predictive analytics market revenues were estimated at USD 10.5 billion in 2020 and 2021 and are expected to grow 15.8 per cent from 2022 to 2023, according to a recently published report from Future Market Insights, when they're expected to reach USD 55.5 billion.
10. Real-time data will pivot to creating value
When looking for data insights, it's always better to be aware of the ongoing trends. This is why organizations are increasingly valuing real-time insights as a vital source of knowledge. Real-time analytics necessitates a more advanced infrastructure, which may demand a larger expenditure. However, when infrastructure is properly established organizations can rapidly make data-driven decisions with confidence. One simple use case for real-time data could involve analyzing clickstream real-time data from the visitor on the website, these real-time visitors can be offered real-time shopping offers, discounts, and frequent buying options. As more organizations look towards data utilization for a competitive edge, real-time analytics and data will emerge as valued big data tools for businesses in 2023.
Bottom Line
To stay ahead of the competition, enterprises will have to extract actionable insights from a data tsunami. All of these innovations, we believe, will hasten the pace of digital transformation and digital business in 2023 and beyond. We also believe that the last two to three years have shown us that digital business is the way of the future. Get in touch with our experts to harness data analytics and BI trends.
You may like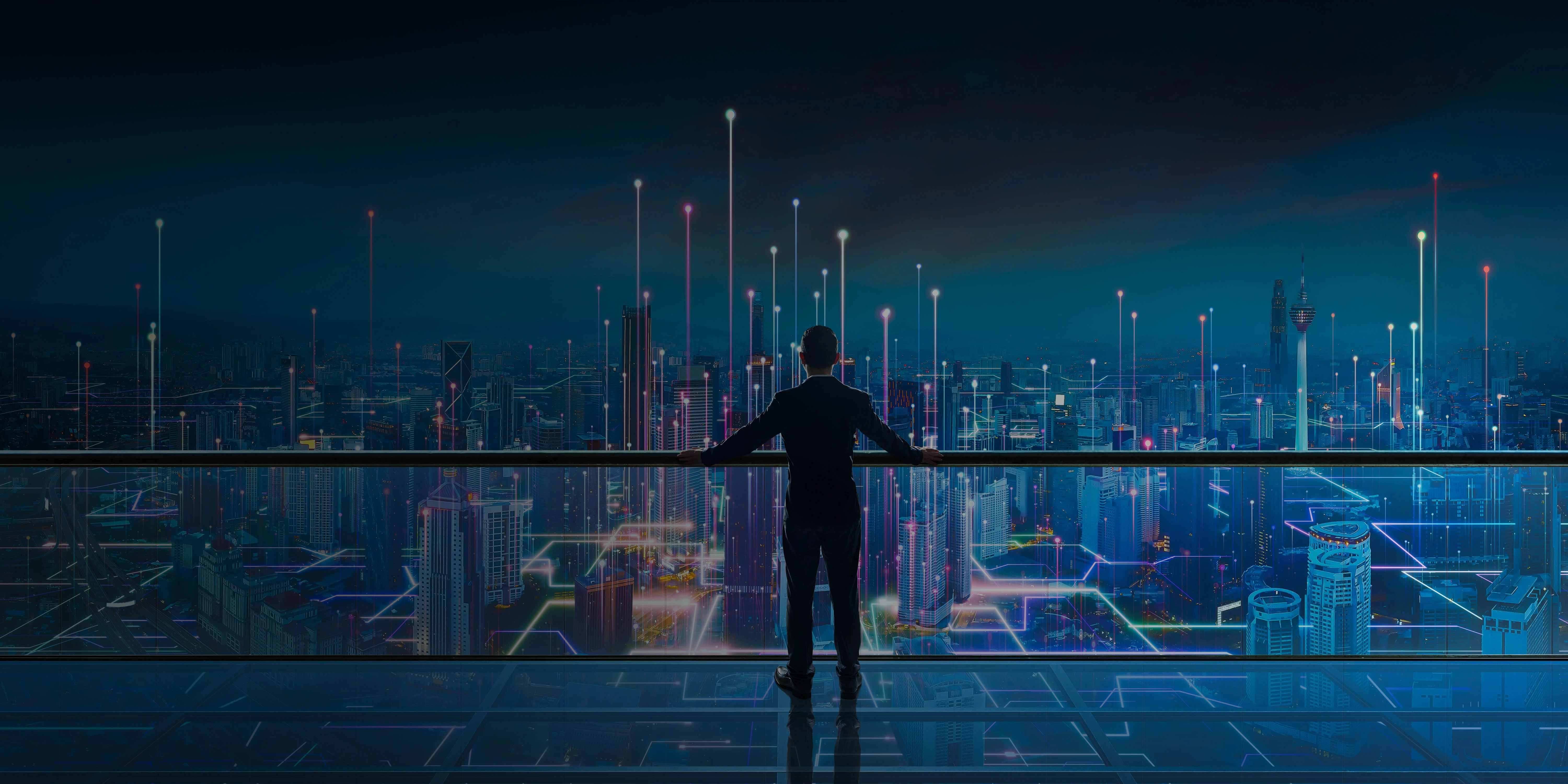 Transforming to cloud-native core banking
Disruptive forces are changing how banking is done.
READ MORE
How can we help you?
Are you ready to push boundaries and explore new frontiers of innovation?
Let's work Together