Modern business intelligence is transforming the retail industry by playing a pivotal role in generating valuable insights for better customer experiences. In the retail industry, the right data at the right time helps you to stay informed about customers' preferences. With a futuristic approach, backed by stronger analytics, retailers can better understand customers' preferences and can address their pain points more effectively.
According to a report from Fortune Business Insights, the global business intelligence market is projected to grow from $24.05 to $43.03 in 2028, at a CAGR of 8.7 in the forecasted period. Sooner or later, almost all the market verticals must adopt it. Let's see some of the modern benefits and use cases of business intelligence in the retail industry.
The need for modern business intelligence in the retail industry
Every customer interaction in the buying journey that generates data offers the opportunity to make your retail business more efficient and successful. Because retail businesses must manage a large volume of data, modern DWH with robust business intelligence tools are required to process this.
Furthermore, the rise of e-commerce has offered customers more purchasing options. On the other hand, for retailers, it's an opportunity for more business. To make the most of their businesses, retailers are increasingly turning to business intelligence tools. Because data can be tracked in real-time, these tools assist retailers in making data-driven decisions quickly.
Key benefits of retail business intelligence solutions
As retail business dynamics are continuously changing, retailers must stay ahead of the curve to stay in business. The integration of the right business intelligence tools provides more reliable business foundations. Here are some of the benefits, including:
Improved business efficiency: As the data can be tracked in real-time, business owners can make personalised offers more quickly.
Seamless Customer Experience: With a comprehensive log of customers' information and interactions; retailers have the opportunity to provide a seamless customer experience at every touch point.
Customer retention, acquisition and sales: Business owners can access the entire information based on modern customer management platforms like Customer360.
1. In-depth customers analysis
Modern BI platforms help retailers quantify the impact of their marketing campaigns on consumers' sentiments, allowing them to make better strategic decisions. Retailers can target customers with tailored offerings, resulting in more effective and successful marketing efforts. With modern business intelligence, customers' choices can be measured in accordance with demographic characteristics, social activities, socio-economic status, and shopping history.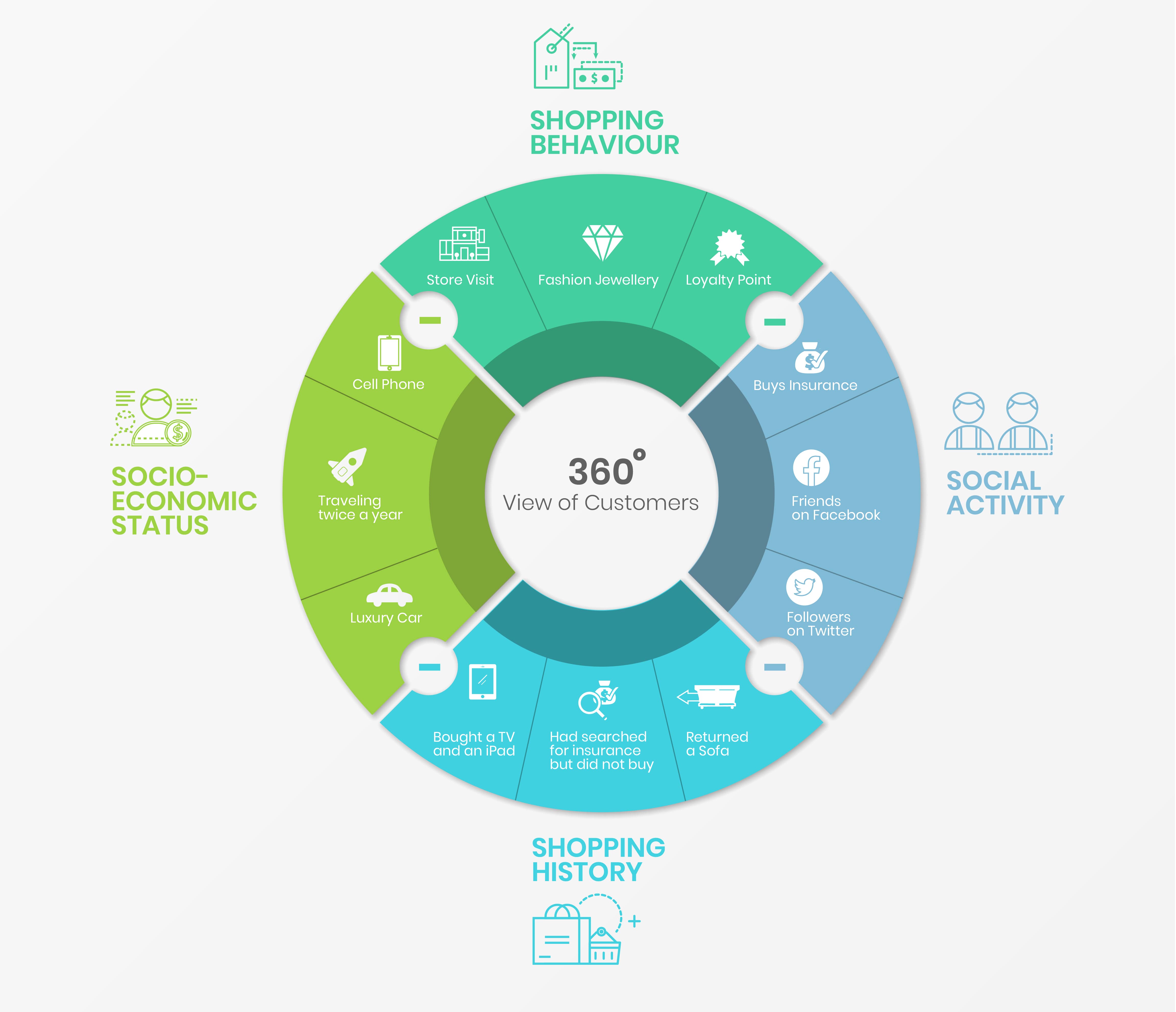 2. Consumer analytics
Customer analytics is the process of analysing customer-generated data, to gain a comprehensive 360-degree understanding of customer behaviour. The process of customer analytics requires various tools and frameworks for collecting and organising different types of data.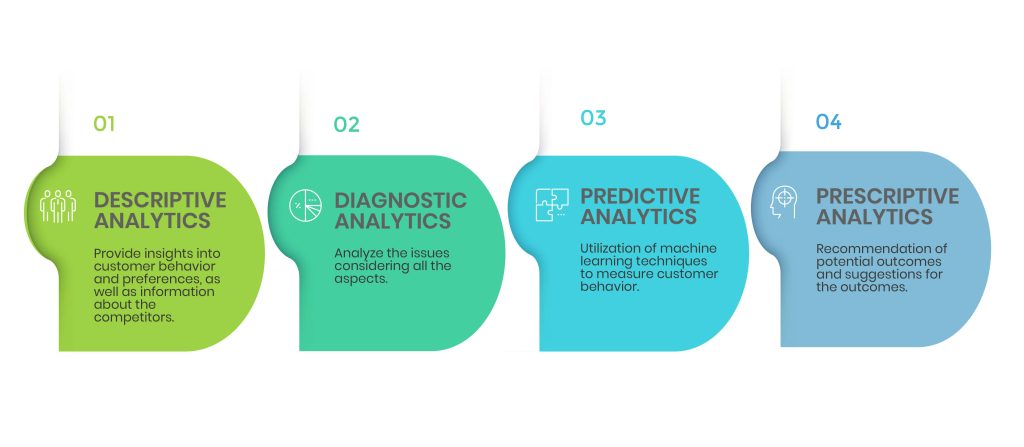 To be successful, businesses need guidance to assess where they are on the "analytics maturity curve". A good analytics partner strives to provide customers with a strong understanding of, where they are. Where do they need to be? and how retailers can get the best possible outcomes? Today's robust retail analytics solutions can offer up to 2500 built-in metrics, hundreds of KPIs, intuitive reports, and interactive dashboards.
3. Predictive analytics for customer retention
With the integration of predictive data analytics, retailers can predict the "lifetime value" of specific customer segments. The generated data will also help them make sure that the right marketing efforts are made, and focused areas are targeted.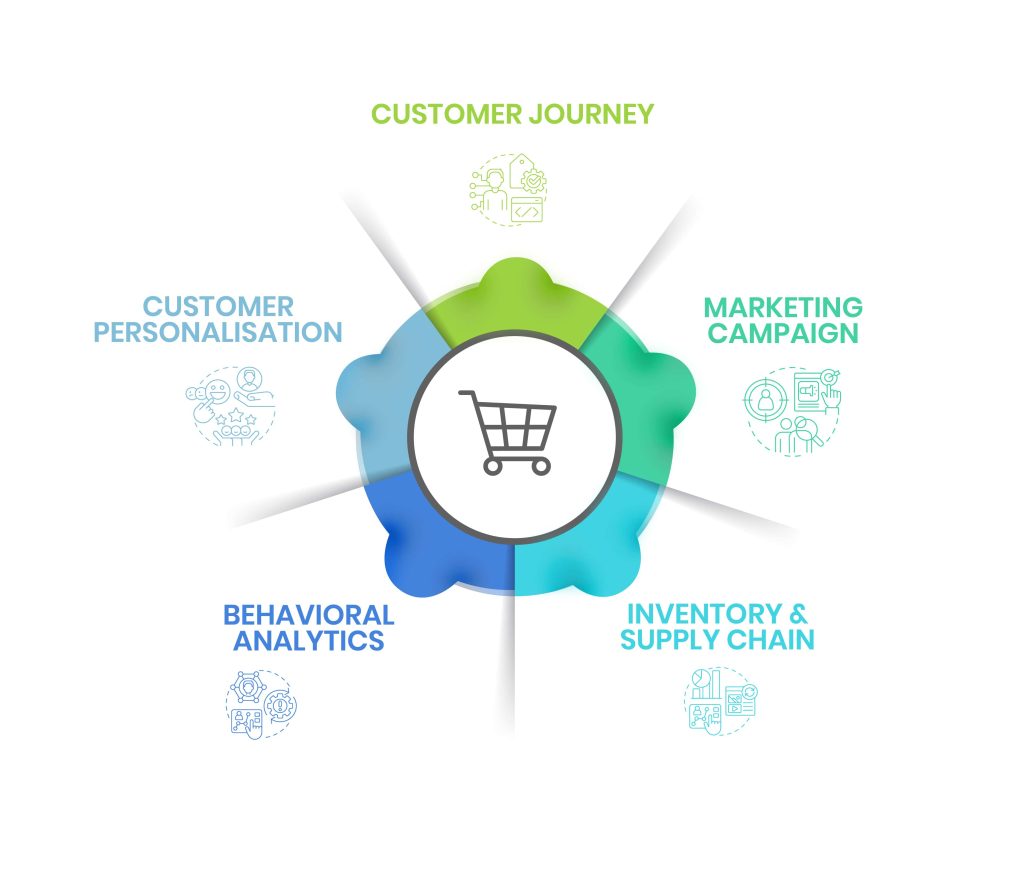 Retailers can predict churn and offer personalised recommendations to re-engage customers. Predictive analytics helps determine when and what customers are likely to purchase, by offering "frequently bought together" products. This follow-up with additional products is a great way to increase customer retention and can address potential opportunities.
Decoupling retail use cases
Leading global retailers are leveraging the business with the power of business intelligence. This drives positive customer experience and can deliver a personalised customer journey. By streamlining the customer targeting process, corporations around the world are integrating business intelligence into their business processes. Here are some examples:
Coca-Cola: The global leader in beverages, enhanced its supply chain and production process by integrating business intelligence. By adding modern BI, data from disparate sources will be represented as a single source of truth (SSOT), further used for future product creation.
Starbucks: "Digital Flywheel" is a masterclass example of world-class digital transformation, powered by artificial and business intelligence. Built around the four key pillars (personalization, orders, payments, and rewards), Starbucks's "Digital Flywheel" is a cloud-based engine that provides highly accurate suggestions about food and drinks.
Amazon: Business intelligence enables Amazon to gain a better understanding of their customers' preferences by harvesting data from disparate sources like viewed products, reviews given, and shipping addresses. This allowed them to offer more accurate "frequently bought together" products.
Building the futuristic retail enterprise
In today's modern business environments, it's no longer enough to have a retail store where customers can make purchases. Just to stay ahead, businesses must deliver an exceptional customer experience. With just a little effort, business intelligence can provide business owners with robust insights for smart decision-making, that will lead to success.
Retail business intelligence enables you to harvest accurate information about what customers are looking for, so businesses can adjust their strategies. Integration with retail business intelligence eliminates guesswork and provides a rock-solid foundation for robust decision-making.
Learn more about how Systems limited data and business intelligence solutions can leverage your entire business curve with maximum customer retention.
You may like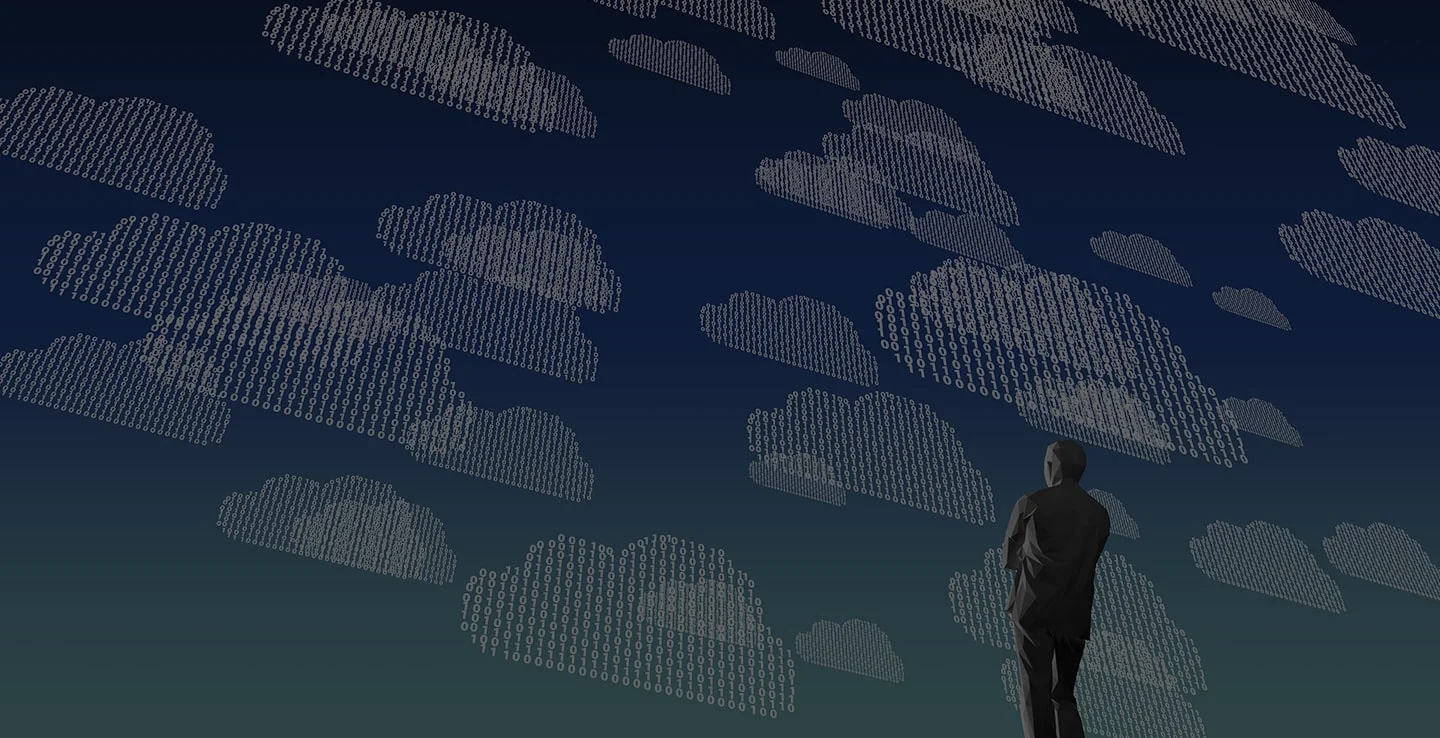 Why must banks make the transition to cloud?
Cloud adoption and its role in modern-day banking.
READ MORE
How can we help you?
Are you ready to push boundaries and explore new frontiers of innovation?
Let's work Together