Healthcare and pharmaceuticals
Enhancing experience,
access, and outcomes
through technology
Get in Touch
How can we help you?
Please fill out the form below.
Humanizing technology and innovating for future
The healthcare and pharmaceutical industry faces challenges in product research, supply chain management, manufacturing, and distribution. Maintaining quality standards requires proper documentation of each process, and professional capabilities and operational optimization are key to addressing these challenges.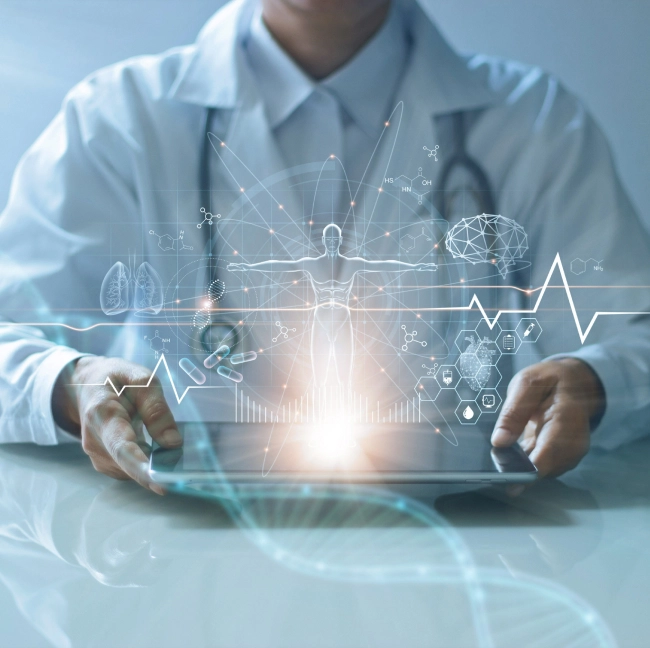 Our Offerings
New waves of innovation 
We offer enterprise-level solutions and the best industry practices that contribute towards seamless efficient business operations.
Get in Touch
Innovating digitally

Utilizing digital technologies such as digital, data, and cloud to improve the productivity of your people and business operations by facilitating seamless connectivity and providing personalized and cost-effective experiences to customers.

Customer-driven supply chain

To ensure continued growth, the healthcare and pharma sectors must have the required capabilities to adjust to the ever-evolving market dynamics. We help enterprises stay ahead of the curve by improving supply chain visibility and flexibility.

Ensure global-compliance

To ensure compliance throughout their manufacturing process, our approaches are custom-curated to meet the technical, legal, and corporate compliance requirements, offering a comprehensive approach that encompasses all stages of manufacturing from start to finish.
How can we help you?
Are you ready to push boundaries and explore new frontiers of innovation?
Let's work Together