Retail customers are always looking for a seamless customer experience at every touchpoint of their buying journey. Modern data and business intelligence solutions can help to deliver personalised customer experiences tailored to specific customer needs. Retail analytics is one of these. It helps organizations retain customers and helps them uplift their lifetime value (LTV) – one of the most valuable metrics to understand customers for businesses.
What is retail data analytics?
As the data is disrupting the entire business landscape, the same is the case with the retail industries. Retail analytics is the process of making strategic decisions, based on analytics generated on inventory levels, supply chain movement, and customer demands. In return, the data generated from customers' touchpoints fuels strategic decision-making for procurement and marketing activities.
Retail analytics gives a holistic, detailed overview of customer insights along with insights on business operations and procedures for operational excellence. With this way forward, omnichannel retailers have begun to reconcile online and offline customer records with high-value insights. That's why retail analytics is now a key differentiator for corporations around the world.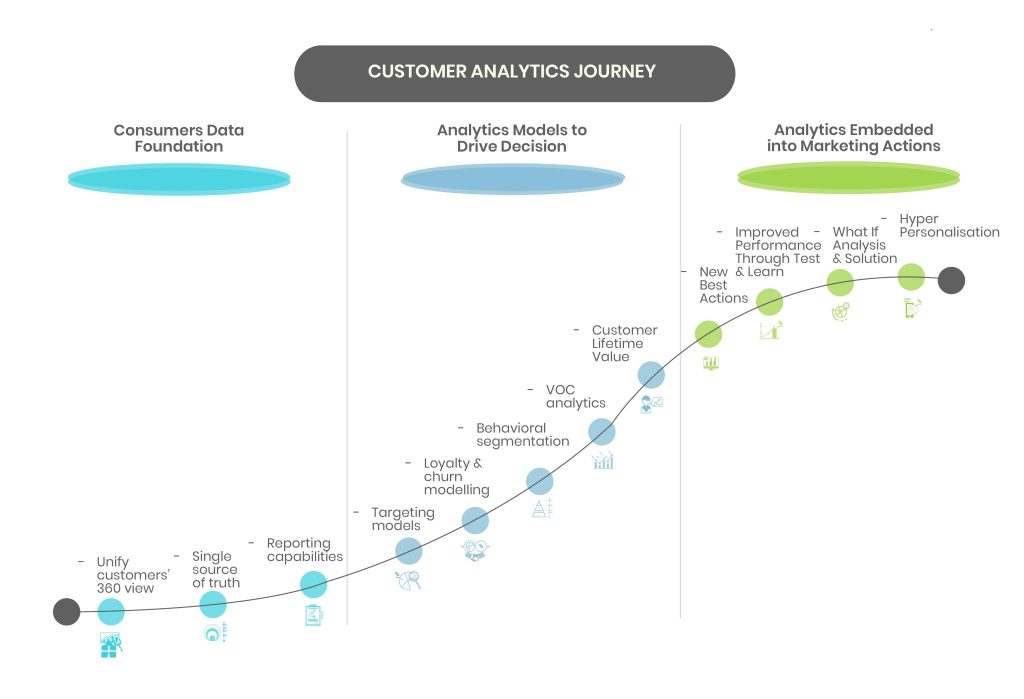 What are the benefits of retail analytics?
Global retail players have already applied data analytics as an integral part of these days. Retail analytics deliver excellence via taking track of popular products that are emerging, sales forecasting, and future demand via predictive modelling, heat-mapping of customers, and many other methods. According to a report from gminsights, "Retail Analytics market size surpassed USD10 billion in 2022 and is anticipated to expand at over 24% CAGR between 2023 to 2032.
Personalized customer experience & targeted marketing
Retail data managers can use analytics to build customer profiles for targeted marketing activities for better results. Personalized customer experience can deliver increased satisfaction, higher conversion rates, and better market basket analysis.
Consider the example of a grocery store, which can determine the buying behaviour of customers who regularly buy from them. This store can utilize customer data to create customized marketing campaigns (via social media or email) for their new products. On the other hand, a brick-and-mortar store with small operations can use the same data to create cross-sell and up-sell opportunities.
Also Read: 5 high-impact benefits of using CRM software in retail
Moreover, retailers can do in-depth customer analysis through in-person customer interaction or by judging online buying patterns. With all that data available for analysis, businesses can tailor the customer experience with product recommendations or with personalized advertisements. Here, predictive analytics can be pivotal. Businesses can mine historical data to find patterns in customer interactions.
Logistic & supply chain optimization
Businesses can use the collected data to optimize their logistics and supply chain environments. Retailers with advanced technological and data frameworks use threshold-based modelling techniques for inventory management when the demand for certain products fluctuates.
Modern business intelligence and analytics functionalities allow retailers to use historical purchase and stock data to predict demand and consumption. Brick & mortar stores often must tackle the demand before holidays, as the demand arises. Modern retail analytics solutions can adjust thousands of SKUs (stock-keeping units), so retailers or management can see stock in regular over- and understock scenarios relative to demand. As demand or market trends fluctuate, organizations can refine their forecasting models up to a single SKU.
Retail Analytics: Some challenges
While modern business intelligence solutions and analytics are driving modern retail strategies, reconciling multiple sales, and marketing channels is also difficult on some fronts. While the retailers are busy mining the customer's data, both in-store and online, the customers' privacy concerns bring a few limitations too.
Also Read: 4 best practices retail leaders use (And how we did it)
That is why business intelligence, analytics, or retail analytics solutions must have compliance standards for sensitive data. The data collection process should be secure and transparent, which is why enterprises should have robust data governance and compliance frameworks along with a retail analytics platform.
Stay ahead with modern retail analytics
Today's retail industry is continuously changing and getting more dynamic. Modern business intelligence and analytics play a vital role in helping companies stay ahead of the competition. By using retail analytics, businesses can gain insights into customer behaviour, optimize their operations, and improve customer retention. This also allows them to make informed decisions that will enable them to maximize profits and increase customer satisfaction. whereas scalable enterprise data integration is a key to effectively performing retail analytics.
Systems Limited's data & Retail analytics solutions are developed to provide robust business analytics through a powerful business intelligence platform.
How can we help you?
Are you ready to push boundaries and explore new frontiers of innovation?
Let's work Together